Pronounced o layg.paar.naash ho.yawm te.le von on.gawl.naa.vol, the title may be more familiar to fans of Monty Python's Hungarian phrase book sketch – it translates as 'my hovercraft is full of eels'. Fortunately I'd no cause to use it, but perhaps it gives a sense of just how different Magyar – Hungarian – is to Western European languages. A completely different grammatical structure. Challenging my pocket book said. An example. Whereas we would emphasize particular words to indicate the most important part of a sentence, Magyar has a much more fluid approach to the construction of phrases, placing the key words at the beginning. I'd found this conceptual variation at once quite fascinating, but equally very daunting. Not a hope.
Fortunately, my abysmal German had sufficed to help me get by. My efforts in Germany and Austria had invariably led to people conversing with me in English, and so, ironically, I'd ended up speaking more German in Hungary than in both the other countries combined. Despite these challenges, I'd thoroughly enjoyed my time in Hungary – some testing days, but they also tended to be the most satisfying. Budapest at night a truly beautiful city.
I'd heard Hungarians had a love of paprika, in a way you might suggest northerners like myself would enjoy tripe and black pudding. But they do. Found a TV channel devoted entirely to recipes with the stuff. I began to notice salt and paprika condiment sets on tables. This was a country moving forward, or at least the familiar supermarket chains had moved in. Remnants of the Communist era were gradually being purged. Just the odd Trabant remaining. Delivery took about ten years, but, judging from those I'd found like the one pictured below, they seemed to last quite well.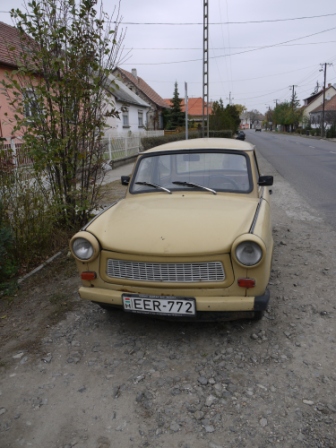 Just one thing had eluded – their most famous export – the Rubik Cube – or Magic Cube – not a single sighting. Disappeared without trace.