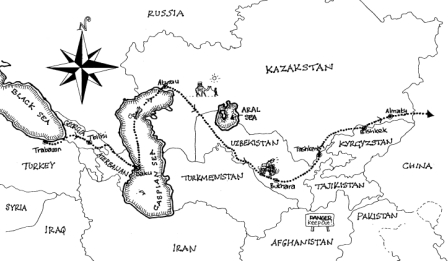 "Maps are an invitation to adventure"
Presidents for Life. Megalomania. Xenophobia. Repressive regimes. Bloody uprisings. Endemic corruption. Central Asia sounded like proper adventure. I thought my plan had both elegant simplicity, and boldness. Follow the Silk Roads into China. Sadly, it's no longer a case of simply jumping on the nearest camel and riding into the sunset. You must first master the shifting sands that is Central Asian bureaucracy – letters of introduction, restrictive visas, dubious tourist vouchers, suspicious fees – often frustrating, certainly time-consuming, but, I hope, ultimately worth every ounce of effort.
Through the Caucasus – Georgia and Azerbaijan – my route should take me to Baku on the edge of the Caspian Sea. Then a cargo ship across the Caspian Sea, possibly a ferry, details, like the timetable, remain hazy. Next the Central Asian state of Kazakhstan, albeit briefly, before the long-haul – almost two thousand kilometres – across Uzbekistan, mostly semi-arid desert. Lots of sand. And scorpions. Back into Kazakhstan, another fleeting visit, and then, civil unrest permitting, into the Kyrgyz Republic – Kyrgyzstan – and a mug of tea in Fat Boy's Cafe, Bishkek. Finally, then, through the mountains to China.
You'd be forgiven for thinking that sailing to Turkmenistan, rather than Kazakhstan, would have offered a more direct route across Central Asia. Quite correct, but hopelessly impractical – they'd grant me just a five day visa to ride the equivalent of Land's End to John O'Groats. Well, any country entrusting its promotion overseas to a State Committee sounded ominous. Pity really. Always wanted to visit somewhere with no ATMs. Might drop them a postcard to let them know the Cold War's over. Assuming they have a postal system.
[To see a larger version of Ken's route through the Caucasus and Central Asia, click on 'Route' and follow the link. The author is indebted to professional illustrator Claudia Myatt – www.claudiamyatt.co.uk – for turning his incoherent scribblings into something meaningful. And thanks to adventurer Alastair Humphreys for the quote from his book 'Moods of Future Joys' – visit him at www.alastairhumphreys.com]