As abruptly as the plain far below gave way to the mountains, beyond the col the noisy, dusty, rough road is quickly replaced by the calming serenity of Lake Sayram Hu. Cool, seemingly fragrant air replacing the oppressive fumes of passing lorries. Tourists, almost exclusively Chinese, a few Kazakhs, come and go in their small buses, stopping for a short while along the water's edge. National Park wardens on horse back wander between the small groups of sightseers.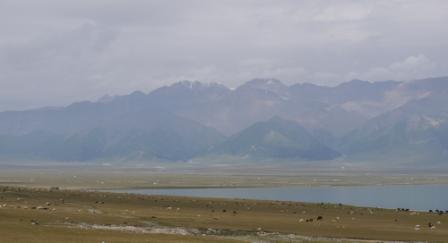 Far across the calm water of the lake, a fringe of mountains, snows now barely perceptible even on their upper reaches, over thirteen thousand feet. Large herds of goats and sheep, a few cattle, wander freely across the wide grassy shores. A few herdsmen on horseback, others on motorcycles, their felt lined Yurts tucked up close to the relative shelter of the surrounding foothills.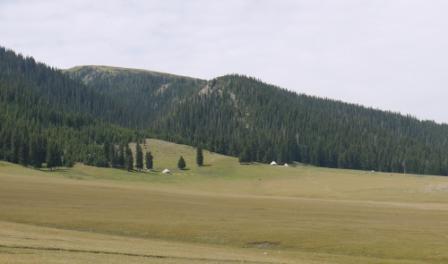 The lake's beauty is compelling, circumnavigation of its sixty miles of shores irresistible. Beyond the admissions barrier that marks the entry to the Bugeda Wenquan National Park, the tourists lessen. A few passing cars offer bread and water. Late afternoon. The morning warmth has lessened, clouds gather on the high peaks to the west, the headwind grows. Precious little cover to rough camp. Onwards to find shelter for the night.