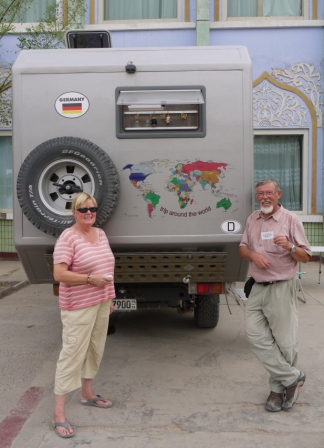 Parked up for the night, it was their map that'd caught my eye. Annotated to show the countries they'd visited, the plan to visit them all. Few remained. A smattering in central Africa. And a few European nations, saved for the end.
We'd started with apologies. My genuinely terrible lack of German. Their unassailable belief that their English was poor. An entirely baseless assertion. Edelgard and Gerd were spending a few months exploring China, having first travelled across Russia and into Mongolia.
Invited to join them for a drink, we chatted at length. Shared curiosity as to exactly who our fellow travellers were. Similar experiences on the road. Bureaucracy. Perceptions of every day life in China. And some invaluable insight into what lay ahead across the Gobi desert. Frequent dust storms. Chaotic roads.

Tags: Germans, travellers, Turpan