Jingning. My next stop. No more than five miles away. So, so close. But, separating us, a tunnel. And no alternative. No goat track around. Nothing. Just an extensive list of prohibitions above the entrance. And a reasonable amount of traffic in both directions.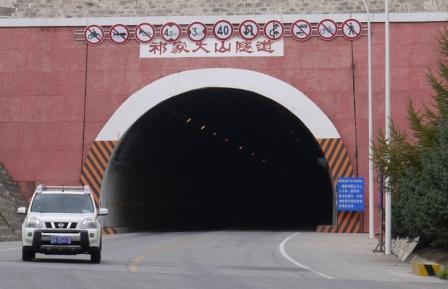 I'd a long-standing love hate relationship with Chinese lorry drivers. True, they'd come to my rescue on more than one occasion. But their overtaking, head on, often bordered on reckless. The thought of being enclosed in a tunnel with them, just one lane in either direction, wasn't in the least bit appealing. Especially as I'd no idea how long it was. A mile perhaps. Assuming the officials at the entrance tolls would let me sneak through.
Lights on. Front and back. And my head torch. Bold, confident approach. Wave to the officials. They smile back. Into the tunnel. It's lit, but the absence of ventilation fans means visibility is poor. The air heavy with fumes. But inhaling the noxious mixture is just a transient, an irritation. And a gentle downhill gradient helps. No, the real risk to health is overtaking lorries. Whether unaware of your presence, or just plain ambivalent, matters not. Forcing you to pull up sharply, lean against the tunnel wall. And hope.