New Years Eve in Sydney. Australia's cultural Capital. And I wasn't looking forward to it. Not a bit. Truth was, I'd be arriving early in the morning on an overnight flight from Hong Kong. Then there'd be a twelve hour wait for my connection to Cairns, the starting point for my southerly run along the east coast. Reckoned on arriving at lodgings close to midnight.
Much as I might want to see in the New Year – and my third continent – in style, the grim reality is that after being deprived of all but a modicum of sleep the previous night, a vat or two of caffeine in domestic departures… I think you get the picture. Of course, there are earlier connections. And better days to travel. But a lot more expensive. Even toyed with the idea of temporary membership of an airline lounge to take some of the pain away, but the airlines have already wised up to that scam one.
Booking the flights has been enough of an experience. Shades of colonic irrigation. Some people enjoy it. I don't. Actually, that's the easy bit. The real fun starts with the excess baggage rules and charges. For which possession of a bicycle appears to be viewed as something of an aggravating factor. Complicated further by using, of necessity, two separate airlines with different requirements and fees. Makes the various Central Asian visa and immigration rules look like they'd merit a Plain English award.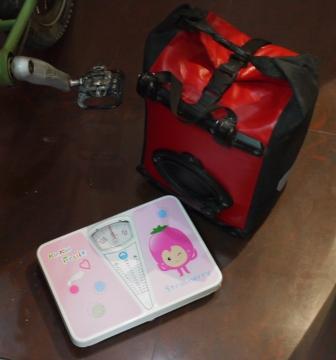 So. No plans to saw the handle off my toothbrush. It folds. Or fly into tropical Cairns wearing my down jacket. Far too light. But I do know exactly how much all the kit weighs. Courtesy of a set of children's bathroom scales. About £2.50 from a Chinese Walmart.
And I've also worked out how to legitimately exploit the carry-on luggage rules to their fullest extent. I'll be the one boarding with a full seven kilograms in my bag. Maps and notebooks ('reading material') in my pockets. Netbook and cameras carried separately. Whilst wearing my iPod. Pondered – albeit briefly – what to do with one of my spare folding tyres. Ressembles a cricketer's protective box. Sort of.
Frustrating? Yes. Time-consuming? Yes. And I'd had help. A lot. No need to shop around the various airlines. My parents had very kindly done that for me. Simply had to follow their advice. Which I'd done. To the letter. And also pleased I'd already got my Australian visa. Saved a few more hours online. And my sanity. Just needed to get across the de-facto border from mainland China into Hong Kong. But that's another story….
[Author's note: You may be surprised to know that the English language version of the Kazakhstan visa and immigration rules probably does merit a Plain English award. Invaluable for fending off corrupt border guards. Sadly not available in hardback]

Tags: airlines, Cairns, excess baggage, flying, Sydney