Fading fast. More coffee. Another Starbucks. But now in Hong Kong. Not sure where exactly. Somewhere in the centre. "Elements" shopping centre. Busying itself preparing for Christmas. Ending up here because it was directly above the Kowloon Bus Station where I'd been dropped off.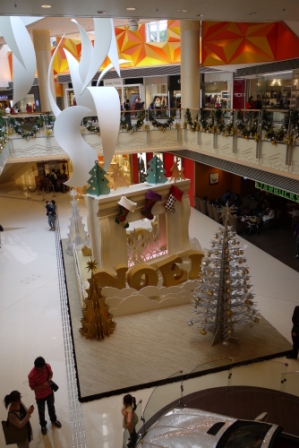 I doubt you could construct a more perfect shopping centre. Offered complimentary mints at the concierge's desk as I sought, successfully, to acquire a map. Public toilets the best I'd seen. Full stop. Ever. Automated soap dispensers at each basin, yielding a small, neat dollop of foam. Had a few goes.
Hong Kong wasn't China. Strictly speaking it is, but in truth it seems very different. A defacto separate nation. It's not just that they drive on the left or use a different currency. Or there's a much wider, albeit far from universal, use of English. Subtle things. Three pin plugs. As in the UK. Or Malta. And cash machines that insist you remove your card before they give you your money.
The choice of shops in "Elements" intriguing. Less of the international names you might find in Chinese equivalents, the sort that sell you opulence. Gaudy symbols of wealth. More the sorts of places you might actually want to pop in, picking up more everyday items. The measure of a more developed society. Albeit at a price. Hong Kong isn't cheap.