At first I ignored him. He was lying prostrate a few metres away. Sheltering, as I was, from the fierce afternoon sun. An ambassador for the Aboriginal community he was not. He'd decided I was attempting to photograph him. Which wasn't the case at all. Just using the shade to look back through the images I'd just taken of nearby fruit bats. Deciding whether or not I needed to run the risk once more of being peppered with guano. Thankfully not.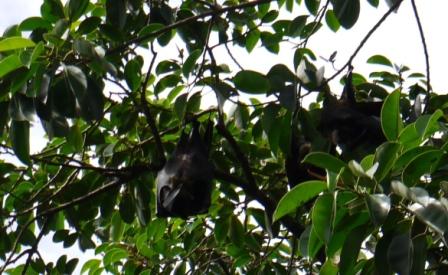 Perhaps others had photographed him without the decency to first ask. As I would always do. Not least because I suspected that true Aborigines might be fearful an image might somehow steal something of them. But, in this instance, you quickly sensed the only spirit he cared about came in a bottle.
His tone became increasingly aggressive. Enough. Advised him to mind his own business. Robustly. Very. A little road trick. Picture how a Westerner is expected to respond – what I call the script – then do something quite different. Surprisingly effective. So far. I wandered off. When I was ready. His parting words. The offer of a photograph for a dollar. Selling his soul.

Tags: Aborigines, fruit bat, photography, soul