I'd half expected to spend New Year's Eve in Sydney baby-sitting Emma, my trusty steed, and all the kit. Sitting sleep-deprived in Domestic Departures. Waiting for Check-In to open. Caffeine my only companion. But no. Fortuitously choosing to fly Virgin Blue north to Cairns meant I could offload my bags and bicycle at International Arrivals. Using Virgin Atlantic from Hong Kong had probably helped. Captain helpfully explaining the arrangement just before we landed.
An unexpected day on my hands. Just after nine in the morning. Flight north not until gone seven pm. Cabin baggage – one of my front panniers – secured in Left Luggage. Even managed to find a free shower in one of the toilet blocks in the International terminal. And an adjacent shop that did a good trade in razors. My own having to be checked in. Refreshed. A bit. Or at least enough to head for the heart of Sydney. It'd be criminal not to. Like so many earlier visitors.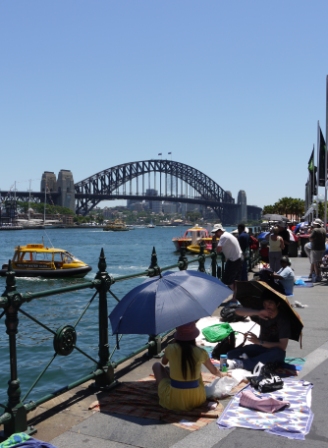 A short train ride into Circular Quay. Emerging to see Sydney Harbour Bridge and the Opera House. Along the waterfront people staking out their places early for the night's celebrations.
[With especial thanks to my Dad for researching the airlines, their rules for bikes and excess baggage, and finding the best deals. Virgin Atlantic from Hong Kong to Sydney. Then Virgin Blue to Cairns. Flying Cattle Economy but still very impressed with the standard of service. A relatively painless experience, even with a bicycle. Assuming you've properly packed up all your kit of course…]

Tags: celebrations, New Years Eve, Sydney