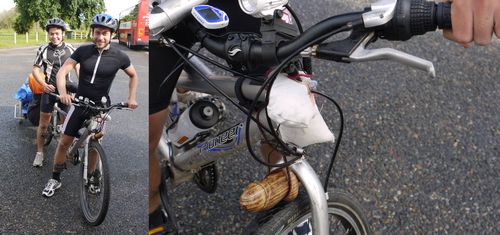 Couldn't help but notice their front mudguard. I'd mistaken it for a Pagan fertility symbol. But Tim was quick to correct me. Bottle opener. I'd met fellow Brits Tim and cycling partner Nick at a truck stop. South of Sarina, along the Bruce Highway. Quite by chance. They were heading north. Up to Cairns. On a tandem. And a small budget. Swapping supermarket hints and tips as much as overnight stops. Woolworths. Discount day Tuesday. IGA independent retailers. Fruit cake on special offer. Two dollars.
But much more intriguing their steed. Cheapest of components. Except for the tyres. Schwalbe Marathon Plus. Ideal choice for sealed roads. And stark contrast to those on their trailer. Numerous punctures.
For all its challenges, theirs was an admirable effort. Two reasons. First. Suspected the tandem was a necessity. Not a choice. Tim visually impaired. Obliged to place absolute trust in Nick on the front. Second. Most important of all. They had balls. Getting on with it.