Actually it wasn't hotpot, it was Hungarian Goulash, but it was prepared by a Lancashire lass. And after a very long day on the bike – it was now close on eight – the kind offer of a glass of red wine and some goulash is stuff you just dream of. Kelly and partner Steve, from New Zealand, looked after evenings in the Aboriginal Hostel for Csaba the owner. The establishment was in downtown Budapest, a few dorms on the first floor of an old apartment block. And a garage beneath for the bike.
Decorated in an Aboriginal style, the place was compact, very clean, but cosy rather than claustrophobic. A small common room with a kitchen off to one side, toilets, showers and an office tucked discreetly away. Even a small laundry. All in a space most people would consider to be a city dweller's flat. I loved it.
In my dorm – eight beds, each with a good sized locker – a real mix, an English actress, a few Australians, an American, an Italian and a German. Save for the Italian chap who I thought was probably about my age, everyone else was a bit younger than me. Not an issue, unless you want to make it one. All travellers. Proper ones.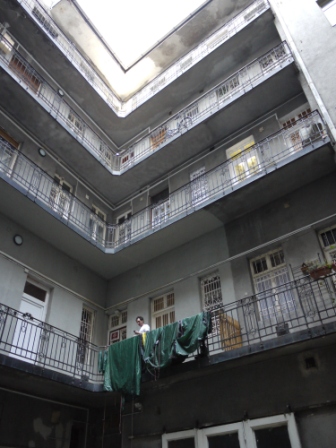 It was the little touches I liked. Themed evenings. A Games night – lots annoyingly compelling puzzles and riddles, a Halloween party, even a movie night with free popcorn. Join in if you like, but nobody minds if you don't. And a breakfast to die for. Proper muesli, stacks of hot, homemade waffles, jams, chocolate spread, endless coffee. All for 2,500 Forints a night – that's about ten pounds. Scarcely more than camping. Somewhere to dry the tent, to clean and check the bike. Perfect.