The thick walls helped retain the warmth, and wire mesh across the small window kept the pigeons out. There were bunks and a wooden table. A well appointed cell. No Komfortzuschlag this evening, but an individuelle Unterbringung had secured solitary confinement. Fruhstuck – it sounded like roll call but I thought it might be breakfast – would be at 7.30. No need to say sharp. This was Germany. And there was a garage for Emma, my trusty Fahrrad. I was beginning to feel at home, part of Eingang.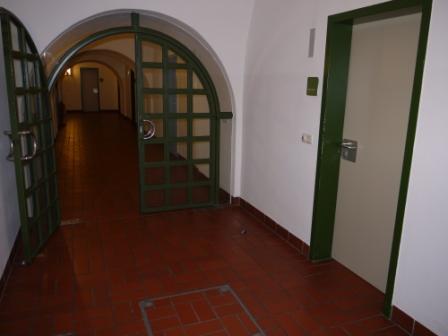 Despite its ressemblance to a prison, Ingolstadt Youth Hostel at least had character. The earlier hostels, Gunzburg and Donauworth, were immaculate and efficiently run, but otherwise nondescript.
Earlier I'd stopped briefly in the town of Neuberg au du Donau. There was little open, just one restaurant. I ventured in for a coffee. Monika wanted to learn secretarial work and improve her already faultless English. Someone had suggested Blackpool. People can be so cruel. I said I thought London might be better. Ordinarily I would have been the only customer, but there was a wedding party in. The bride was in traditional Bavarian dress. The groom was in a suit. No sign of the leiderhosen. Perhaps he was saving it for the wedding night.
Back in Ingolstadt, I enjoyed a largely peaceful night in my cell, just the occasional faint sound of movement about the place. Probably someone building a glider in the roof space.