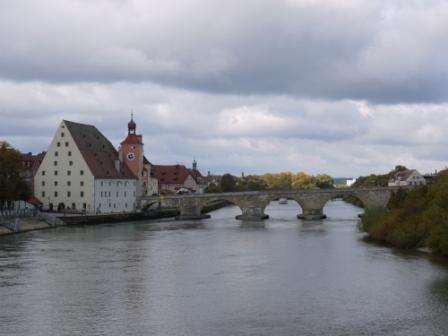 Manfred had the map and Ute a strong sense of direction. They were from Frankfurt, cycling a section of the Danube cycle way. We'd met by chance crossing over a bridge in search of a better route on the other side of the river.
The Danube hadn't been quite what I'd expected. The river would put in an appearance once in a while, and did have some very striking sections, but otherwise much of my route across Germany had been damp and dull. Campsites were closed, and accommodation could be difficult to find. Despite some occasional teasing, I'd always had a quiet admiration for the German nation, but was beginning to feel a bit disappointed with the old place.
But then I'd met Manfred and his wife Ute. A little later, after lunch at Weltenburg monastery, they suggested we might take a boat through the narrows to the town of Kelheim. It would be very scenic, much better than the cycle route. I liked the idea. It was raining. Nevertheless, things were suddenly looking up.
The brief respite from the weather provided by the ferry now over, the daily search for accommodation began in earnest. We headed for the small town of Bad Abbach. Prospects on the ground hadn't looked good, and Manfred and Ute's efforts on the phone didn't seem too promising. Nice park bench I thought. Public toilets nearby. But then – yes – a small hotel close by, they'd take the bikes, and the price would be about that of a youth hostel – would that be ok? Yes, and the very least I could do was buy the beer.
Manfred spoke excellent English, and Ute had a good grasp of the language – made my German look quite pathetic by comparison. Which it was. The following morning, as we headed towards Regensburg, Manfred was keen to learn some more English colloquialisms. I offered a few. A little later he and I stopped to admire the view. Ute thought it best to pedal on a short way and wait for us.
A final coffee together in Regensburg and it was time to part company. For a while now, I'd been looking for somewhere to stop for a few days and Regensburg struck me as just the spot. We'd met on a bridge so it only seemed fair to bid farewell to each other on the city's ancient stone bridge across the Danube.