I'd been introduced to the world of the budget hostel back in Bratislava, Slovakia. For around ten Euros a night – about ten pounds these days – you'd be forgiven for imagining unkempt, unloved establishments, mattresses with a life of their own, tolerable simply because you can't afford anything better. Well, you'd be wrong. Dare say there are one or two like that, and standards do vary a bit, but they're now my first choice for an overnight stop. And much better than most of the more traditional hostels I'd used in Germany and Austria.
Surprising? Not really. Most of the clientele are twenty-something travellers, largely middle class, educated, discerning types. There are a few websites to help you locate hostels, but for the most part they rely on word of mouth, often flyers left in hostels in adjacent countries. Reputation is everything.
The hostels I've stayed in really understand their market. Lots of travellers carry netbooks, so WiFi's a must. Nobody likes a wet towel in their backpack, so they're always included. A small kitchen to help you keep costs down. Lockers to keep your possessions secure. Some even include breakfast, which can be quite substantial. No quibbling over portion sizes.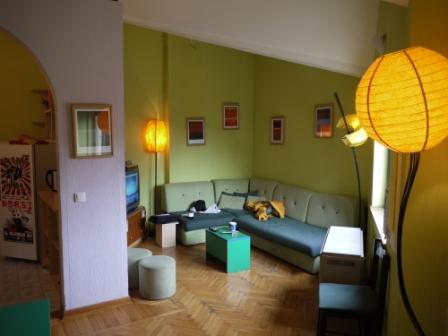 Always clean, most have appealing decor, even if the apartment block they're housed in has seen much better days. You feel very safe inside. And friendly, helpful staff. English is the working language in this world. Essential if you want the custom. And great for conversing with fellow travellers, sharing experiences and advice, places we've stayed or visited.
Quite a few places don't have a check-out time, and you can arrive when you want. This puzzled me for a while, until I realised that many travellers use the cheaper overnight trains and buses to get about. New arrivals at seven in the morning are quite common, as are late evening departures.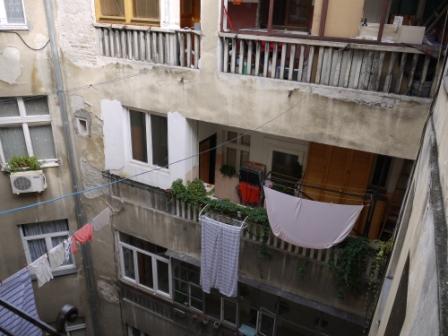 The hostels I've used have been very understanding about the bicycle, always finding somewhere to secure Emma. The sixth floor of an apartment block can be a bit tricky, but you'll be amazed what you can get in a rickety old lift if you have to.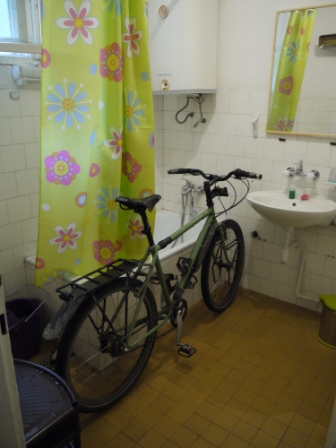 Bit of creativity – and a mop in the corner- and you can even find somewhere to help Emma scrub up a bit. Pick a quiet time of the day, scrupulously clean up afterwards, and nobody minds. Or notices.