Myles and I reached Plovdiv, the old Bulgarian Capital, with a couple of hours of light left. Tidy outskirts. A dedicated cycle lane, even if the kerbstones at road junctions were high enough to dismount the unwary. In the centre cobbled streets. Clean, well kept. We headed for the old walled city where we knew we'd find a travellers hostel.
Encountering a busy road junction, we decided on using the underpass. It had steps, together with a smooth metal cycle ramp. Fine for descent, but not enough grip to get the bike and all the kit up the other side. Until a woman came to my rescue. We didn't just get up the other side, we flew.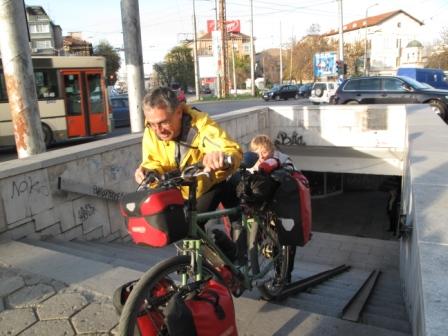 (Photo Myles Mellor)
We found a small hostel with an impressive view across the city. Our room was in the roof, the ceiling sloping, a mattress each on the floor. Quirky. And ample space for our bags, a little more security than in the adjacent dormitory.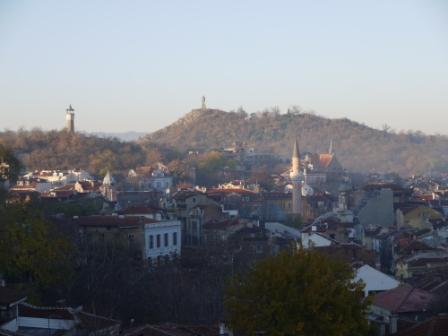 Wandering down into the city that evening, a pedestrian shopping area much more like something you'd find in Western Europe. Some familiar high street names. Unexpected.