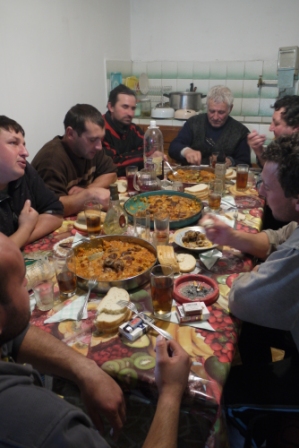 I'd joined Zoya and Jack, together with their family and friends, to experience a traditional Bulgarian Christmas celebration. Dinner in the afternoon was a communal affair, no plates, just forks, and an endless succession of dishes to dip into, all made using the family's pig reared for the occasion. Ample home made wine and Rakia, the local firewater. With so many guests, the men sat around the table in one room, the women next door in the kitchen.
The day had started early with the traditional killing and then butchering of the family pig, as much a part of the festivities as the meal itself. The whole process took the best part of four hours, done outdoors with great skill, passed down from father to son. Nothing went to waste. Water was boiled in large cauldrons over open wood fires beside the house, used to help scrub the pig clean. Tasty morsels of meat for those busy stripping the carcass were prepared on a small grill, fuelled with the embers. Indoors, the women prepared dinner with the freshly cut meat.
After the meal, I'd returned to the house where I was staying, a few logs for the woodstove, phone calls to family and friends. Then back to Zoya and Jack's. A chance to sample home made sausage, prepared earlier in the day entirely from various parts of the pig, and then slowly boiled. Tender. I ate a good few slices. Zoya seemed pleased.
Off next to Christopher and Radka's house on the other side of the village. Thirty, perhaps forty, people in two small rooms, one the kitchen. Long tables arranged in the sitting room as if for a banquet. A small space was found for me next to Christopher, a jovial chap who'd been learning a little Welsh. I offered a few new phrases I'd learnt growing up in Wales, in between tucking into the meal Radka had presented me with. Keen to show my gratitude by eating a decent amount, I soon found myself presented with a second plateful.
I returned once more to the house where I was staying, thoroughly fed. The day had been a wonderful experience. But now it was time for more adventure. I'd been given a knitted woollen cap for Christmas, thoughtfully designed to be worn under my cycle helmet. I was ready.
[The author is indebted to Chris, Ruth, Alex and Emily for the very generous use of their home in Bulgaria, and with it the opportunity to experience traditional village life]