Suppose if you start the day with vodka and borsch – red cabbage soup – then things are likely to take a few interesting twists and turns. Especially at speed in the back of a Police car. Meeting up with Eto after breakfast, she'd organised a day out and about in the Guria region with the thoroughness you'd expect of someone who'd spent three years studying at University in Germany.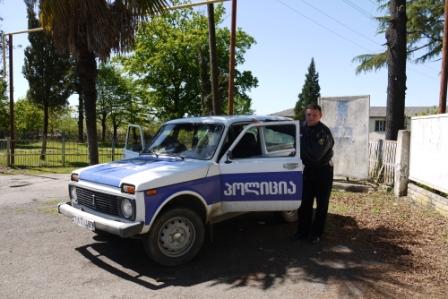 Introduced to the town's mayor, he kindly put a car and driver at our disposal. A Police car and a Police officer to be precise. Got the impression I was not alone in finding this a generous, but quite unusual, offer. We were joined by Nazi, an English teacher from the local secondary school, helping out with the interpreting.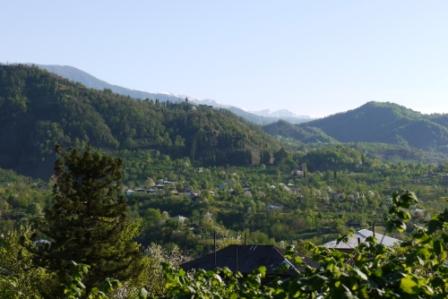 And then we were off. The monastery at Udabno, a few kilometres away, a mix of old and new, a sixth century cave church close to one built just a few years ago. Then on to Eristaven Castle, sat on a small hill in the middle of the flood plain, by now joined once more by Kate the journalist. Then up a winding river valley to the springs at Nabeghlavi and a state-of-the-art bottling plant. Next, a nearby nunnery, high above the valley, the views quite breathtaking.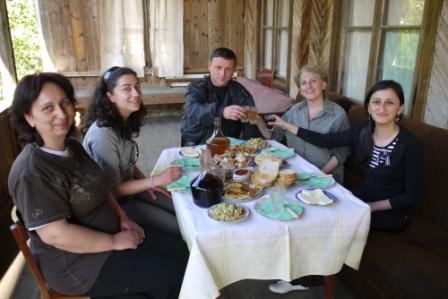 Finally, a visit to an old house, complete with wine cellar, home of the local landowner in pre-Communist times. Grand piano in the public room, pictures on the wall of the family in the finery. And a fine end to the day, dinner on the veranda in the warm evening sun.
Back at Luara's time to reflect on the day. What did I make of the Guria region? As I sought to explain to Kate over dinner, the scenery is unspoiled, quite beautiful – intriguingly, you never fail to sense the presence of the snow covered Lesser Caucasus high above the valley. But what I really liked was the genuine warmth, the generosity of people. Even in a busy town like Ozurgeti, cups of coffee had appeared as I sought to explain my venture, I'd been stopped regularly on the road, asked if I needed help.
I'd suggested lots of people would love to visit, be it trekking, bird-watching, cycling, but they simply weren't aware. I guard my 'visit again' list quite closely. Very easy to say, with the best of intentions, you'll return, only for the realities of life to get in the way. But I'd definitely come back, to western Georgia certainly, once the expedition's complete. Well worth the effort.
[The author is hugely indebted to all those who've made him so welcome in Chakhatauri and the Guria region, in particular Eto, Nazi, Luara, Kate, George and Giorgi. And do visit the Gallery to see more photographs of his day in Guria]

Tags: Caucasus, Chakhatauri, Georgia, Guria, reflections, Silk Roads, welcoming