It seemed you were supposed to down it in one. Kymyz – fermented mare's milk – is celebrated for its health giving properties. But probably not for its taste. A bit bitter, a little salty. Got the impression visitors were often reluctant to try it. Took balls. Something I was worried it might have in common with the horse. But never one to offend my hosts, did the honorable thing without fuss. Rewarded with a second generous helping. And more a bit later as a night cap.
I'd intended to stop just briefly in Zharkent, the last decent sized town a short distance from the Chinese border. My last few coins spent on the readily available English confectionary. A small shop on the outskirts, but even that had quickly draw a small group, curious to know what I was doing. Amongst them Marat, Deputy Mayor of the town, who lived close by.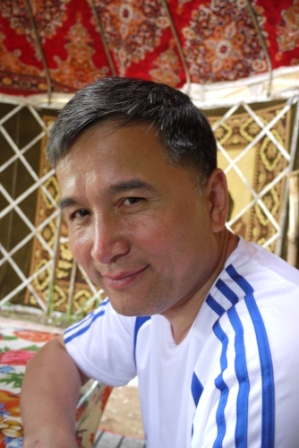 I was soon invited to join him for tea, perhaps see something of the town, maybe stay the night. His daughter Meruert and her friends, all of whom spoke a little English, helping with the language barrier. I accepted, explaining I would need to leave very early the next morning to reach the border crossing in good time.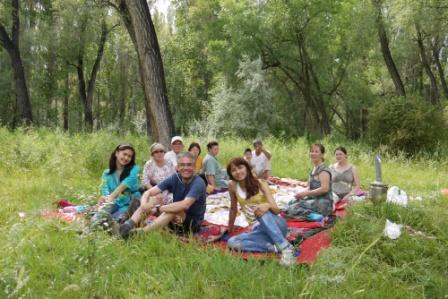 A quick shower and then back towards the town of Koktal I'd passed through earlier. To a Yurt – a large circular tent – to experience kymyz. And then, by chance I thought, we joined in a family picnic. Marat was the consumate politician, as keen to be amongst his people as I was.

Tags: Kazakhstan, Silk Roads