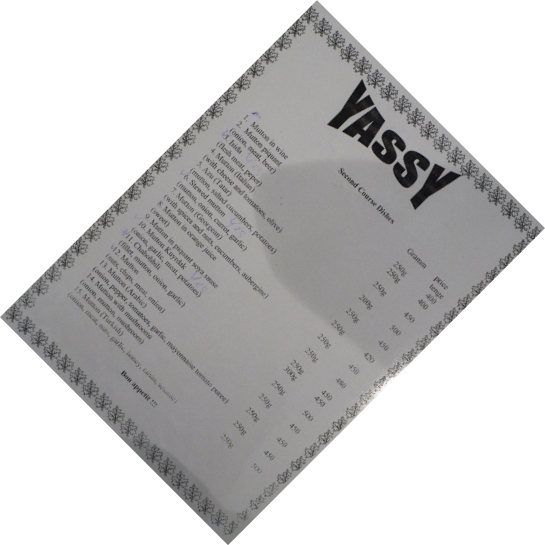 "Chicken's off" she explained. Hopes dashed. I'm quite fond of mutton, a staple in much of Central Asia, but there's nothing like a change. I'd been encouraged by a menu in English, an extensive choice of dishes. But it wasn't to be. Just mutton, done in fifteen extremely different and interesting ways. In wine, piquant, Italian, stewed, Georgian, in orange juice, in soya sauce, Arabic, Turkish. And then I'd lost the will to read on.
At least I could wash it down with a cool beer. I'd noticed the small party of Japanese tourists on the other tables had one each. And there was a bar in the corner of the hotel restaurant. But, I was told, it didn't actually stock alcoholic beverages of any description. Like my fellow guests, I'd have to go to the shop down the road.
Undeterred by the main course and refreshments, I made another foray into the menu in hope of desert. Found fruit salad amongst the salads, and rice pudding. Alas, you guessed, no fruit, and the rice pudding? Afraid that was in the breakfast menu. No chance.
Still, I'd found there was pancakes with honey to look forward to next morning, even tea with milk. Another fifteen choices for breakfast. On paper. In fact there were three. Fried eggs with sausage, two different styles. Or omelette. But no milk for tea, which did make me wonder what'd pitch up if I plumped for the last option.
[Author's note: Described in a well-known guide book as the best place to stay in Turkistan – for less than fifteen pounds per night, add about six for breakfast and dinner combined, such as it is – I was beginning to wonder if the Hotel Yassy had a twin. Staff are friendly enough, but there's a lack lustre feel to the whole place. Tepid water only in the mornings, and you hope they're rust stains on the towels. Toilet paper soft enough. Recommended only for its comedy value. And the air-conditioning in Room 307. But don't try and reach it by the lift – that regularly stops between floors]

Tags: hotel, humour, Kazakhstan, menu, Silk Roads