"Endurance is patience concentrated" Thomas Carlyle – Scottish historian and essayist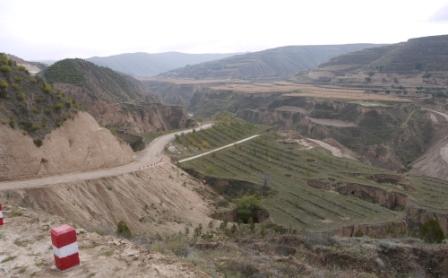 Beyond the town of Dingxi the northern route to Xi'an (pronounced Shian) climbs steadily up through the steep, neatly terraced hills. Sweet corn the cultivated staple. Pleasant autumn sun, the last of the crop being gathered in. No deep, plunging valleys or steep rock faces, but much of landscape still above six thousand feet. The road winding its way up to a col at over seven thousand. Then a steady, drawn out descent towards the town of Huining. Invigorating.
Depending on which map or guide book you consult, it seems more likely that the Silk Road runs a little further south. But, aside from the historical association, there seemed little else to differentiate the two routes. In the end I'd made my choice on the basis I'd pass through a town that featured in my less than reliable travel guide. Curious to see how it'd fare on this occasion. I wasn't hopeful.