I felt a bit disappointed. Cheated even. Had hoped to summit at over eight thousand feet. A record for the expedition. But expectations of a col had been dashed by a tunnel through the mountain. There were consolations. I'd still achieved over seven thousand six hundred feet. A first. It was just that eight thousand had a nice ring to it. And the tunnel was a challenge in itself. All two miles of it.
I'd left the town of Jingning a few hours after sunrise. Bright and crisp. Soon warmed by the steady switchbacks on the climb east. Then a barely perceptible gradient across a wide, flat valley bottom. Farmers busy harvesting in the last of the season's sweetcorn and potatoes. Beyond the small town of Longde a more formidable climb. To the tunnel.
Length uncertain. Not even a glimmer from the other end. No place for a puncture. I'd have been content to ride through the tunnel alone. However, a young family wasn't having any of this. A convoy was assembled. Lorry behind me. Four-by-four in front, its hazard lights on. And off we went. Hoping I'd not encounter a pothole. Or, if I did, the truck driver would be quick on the brakes.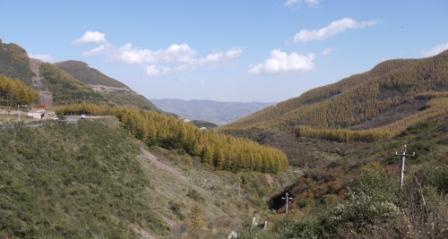 Two miles later bright sunshine. Gone, for a short while at least, the cultivated hillside terraces. In their place woodlands. It felt more in keeping with being at close on eight thousand feet.