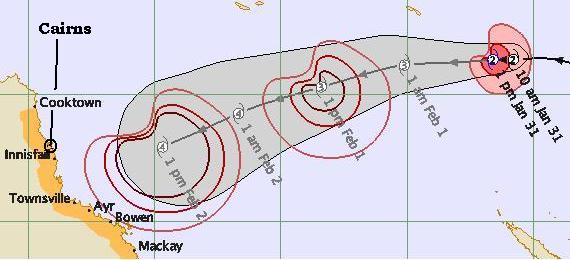 Birthday looming. Some celebrate with jelly and ice cream. Looks like I'm going to share mine with Tropical Cyclone Yasi. Described by Australia's Bureau of Meteorology as a "Goliath". Deep joy. Look carefully at the map of the system's expected track and you'll notice some small numbers. Indicates strength. Increasing as it approaches the coast. Four isn't good.
Still, feeling pretty stoic about it all. For several reasons. Firstly, I'm actually quite excited. So far I've found myself arriving after the riots, missing the bomb attacks, escaping the flooding. Looks like I might get some first hand experience. Hoping to capture it on film. See how quickly I can get to share it on the web.
Then there's the Aussie spirit. Talk of Cyclone parties. Batten down the hatches. Get the washing in. Find a safe refuge. First floor is good to avoid being flooded out. Tape up the windows. Grab a beer. Some friends. Watch things fly past. The odd dustbin. Debris. Livestock can be a bit problematic.
And even if my curiosity doesn't appeal, nor does the "Dunkirk spirit", there's the little issue of where exactly would you go? On a bicycle? Cyclones have a habit of being a bit unpredictable. Suddenly veering off the expected track. Best to sit put.
[Image above Copyright Commonwealth of Australia Bureau of Meteorology. For illustrative rather than predictive purposes]