The Skeena river wasn't one to disappoint. For, continuing my journey along its banks inland beyond the town of Terrace towards the small settlement of Kitwanga, it was truly the river of mists. Cold, wet and miserable day.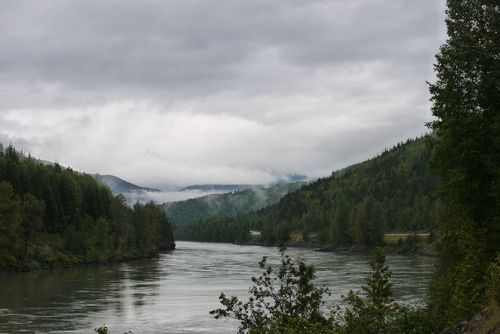 Just a decent, nourishing packed lunch and a flask of hot coffee to keep morale up. Both carefully eked out to sustain myself over the six five miles or so along the highway.
There'd been interludes. A few walkers on the far bank. Wondering how they had crossed, for I'd not seen a bridge for ages. A train. Much shorter than the earlier ones. A large bird on the far bank. A bald eagle perhaps. But otherwise, pushing along the highway, trying my best to settle into a rhythm as the traffic flew past, fine spray coating my glasses.
Whilst my general direct was east towards the large regional centre of Prince George, I'd mountains to negotiate, necessitating a day running north east, before heading south east for a few days.