Equipment
A comprehensive kit list, aimed very much at those who are planning their own expeditions / voyages of discovery, will be added over the next few months.  Watch this space….
Ken doesn't endorse products, and with very few exceptions, all are paid for by him.  However, quite a bit of effort has been spent acquiring what he believes to be the very best equipment for the job, and if he's still using it in 4 years time then that says a lot….
Introducing some of the kit…
Expedition kit – some of it! from Ken Roberts on Vimeo.
Challenges and trade-offs

Coming soon….
Satisfying Maslow's hierarchy of needs – the physiological stuff – shelter and warmth

Coming soon….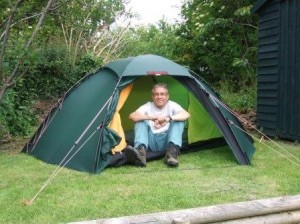 I've opted for a Hilleberg Staika dome tent – at 3.7 kg packed weight it's certainly not the lightest or smallest option, and one I suspect many expedition cyclists might reject.  But I chose it because for 4 very specific reasons.  Firstly, space – I may be static for days at a time, and particularly if the weather confines me to the tent, I want to have plenty of room for myself and all my kit.  With 2 vestibules – one for the panniers and one for cooking in – and a generous inner, the Staika provides ample space.  Incidentally, the ability to be able to stow all my kit, with the exception of the bike itself, inside the tent is likely to be of considerable importance in Africa if I want to avoid spotted hyenas helping themselves…
Secondly, if I am static for days and it snows, the dome design is able to withstand quite a bit of weight.  Thirdly, the heavier Kerlon 1800 outer fabric should be far more able to withstand long term exposure to UV than lighter weight options.  Finally, it's a free-standing tent – doesn't have to be pegged down – which may be very handy for rocky ground, or dodgy, bug infested motel rooms….  I've also invested in various extras for the tent – a 'footprint' to extend the life of the sewn-in ground sheet, some 'Stinger' titanium pegs for use in really tough ground (they ressemble nails), some snow pegs (bigger than I thought…) and some spare guy line and runners.
Rather than simply secure the tent, inside the manufacturer's bag, to the top of my rear pannier frame, I've opted for a far more robust solution – a bespoke heavy duty tent bag with securing straps designed specifically for the frame.  For this piece of kit I'm indebited to my good friend, and until recently neighbour, Peter, who's been making various pieces of outdoor clothing and equipment for quite a few years….
I've spent a lot of time exploring the various options for sleeping bags, eventually settling on a Peter Hutchinson Designs Hispar 500 bag with a full length zip.  Not only is it beautifully made, it is also a fine piece of engineering.  I had been struggling to reconcile the wide temperature and humidity ranges, other concerns such as the problems of getting down wet , or the much greater bulk of man-made fills for the same bag temperature rating.  However, a visit to Peter Hutchinson Designs' workshops, and a chance to see and discuss at length the various options, really helped me settle on what I believe is the optimal solution for this expedition.
I'm also using a Thermarest Prolite 3 Regular sleeping mat and an Ajungilak Micro Lite-tex Lakenpose sleeping bag liner to help try and avoid the Hispar becoming, like the tent, free-standing…  I also have Ajungilak's 'air pillow', but suspect this may not get through the final kit selection – a space issue, no reflection on the item itself.
For cooking I've opted for the very robust Primus Omni-fuel stove – can be run on gas or a wide range of liquid fuels – coupled with a small EtaPower cooking pot, plastic bowl and mug, a 'Spork', and a field servicing kit for the stove.
What to wear
A difficult balance has to be struck between what's right for the bike, and what works for the other 2/3 of the day when you're not cycling.  And you're living out in the wilds, and not in a nice, warm hotel room.  There is also an element of trying – as best you can – not to stand out too much and draw unwarranted attention to yourself, especially from undesirable types.  Keeping the weight and volume down is also hugely important – layering helps as do multi-function items.  For an expedition such as this, there are also significant temperature and humidity ranges to be dealt with, although it's worth remembering less 'technical' clothing can easily be obtained en-route.  The clothing I describe below is what I'm starting with, which as I reckon this winter will be the toughest I face, is somewhat biased towards tackling the cold – as I move into warmer weather next year there will doubtless be many changes.
For cycling on those chillier days I have a Buffalo Tec-lite cycle shirt – nice bright yellow, ideal for being seen – and if the rains come in, a Mountain Equipment Changabang jacket.  The latter is a 'technical' climbing jacket, cut quite short, and, as such, not an obvious contender for cycling.  However, I don't think it's unduly short, and it has other redeeming features such as zippable side vents normally associated with cycling jackets, and is, like the Buffalo, very bright.
For when it gets really cold I've opted for an Ultra Pullover from Peter Hutchinson Designs – incredibly light, seriously warm, and, being down filled, packs down into a very small volume.  This is complemented by their Extreme Balaclava.
I do notice the cold on my hands and have opted for a layered approach to remedy this.  Extremities' thick 'Windstopper' gloves are coupled with a pair of their Gore-tex outer mitts for when its very wet.  For serious cold, I've just ordered some 'poagies' from Alaska, which seems to be about the only place on the planet that makes them, unless you're a motorcyclist.  More on these soon…
Introducing Emma

Coming soon…… Ken's expedition cycle
Whilst Emma has to put up with the elements when I'm actually riding her, I reckon that still leaves 2/3 of the day, not counting days when I'm resting up, when Emma need not necessarily be exposed to the weather.  My solution has been to use a very lightweight tarpaulin – Hilleberg's Tarp UL 10 for example – to cover the bike up when camping.  And in the jungle, or wherever I chose to sleep in my hammock with the tarpaulin above me, the plan is to lie the cycle on the ground beneath me to afford it at least some degree of protection.
Other stuff…
Petzl Tikka Plus head torch – compact, robust and ergonomic design – surprisingly bright for something so small, and economic on the (AAA) batteries.
Emergency rations
Or put another way, stuff I never plan to eat…. and if I do, it gets replenished at the first opportunity.  Favouring freeze-dried over de-hydrated – I understand the first presevation method retains far more flavour and nutrients – I've opted for Expedition Foods' Beef & Potato Casserole (800 kcal), together with one of their desserts.  I'd love to tell you what the latter is, but I've taped it securely to the casserole pack and can't actually see…  Incidentally, have tried both and been very impressed.
Recording media and communications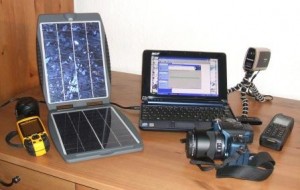 Keeping the blog fresh and interesting, together with properly recording the expedition, has led me to chose a Panasonic SDR-SW20 SD video camera, a Panasonic Lumix DMC-G1K digital SLR and a Garmin GPS 60 GPS receiver.  The video camera is waterproof to depths in excess of a metre, which should make it sufficiently resilient to the damp.  The SLR was chosen for me by friend and (former) neighbour Peter, who knows lots about these things and really understands the demands of the expedition.
I've started with 2 x 8 GB SanDisk Ultra II SDHC cards for video, and 3 x 4 GB SanDisk Extreme III SDHC cards for the SLR, giving me a total capacity of almost 7 hours recording for the former, and almost 2000 stills for the latter.
And whilst the GPS 60 may well prove useful as a navigation tool in some parts of the world, its real purpose is to log lattitude and longitude at various points along the route.
As a solo traveller with a blog, heading off to some pretty remote parts of the world, reliable communications are very important.  I've juggled with cost, availability and reliability to come up a solution in 3 parts.  First, use of local facilities – internet cafes or WiFi using my own Acer Aspire One netbook.  Secondly, wherever I can find a terrestial mobile signal, e-mail using my netbook via Thunderbird e-mail client, or blog posting using Bytescout's Post2Blog 3.01 weblog client.  Both connect using a pay-as-you-go (PAYG) T-Mobile mobile broadband USB Stick 120 – no web browsing otherwise my PAYG credits would disappear rapidly abroad!  Finally, and used very sparingly, an Iridium 9555 satellite phone with both an SMS and e-mail capability via the netbook.
The satellite phone is very much for emergencies, or pre-arranged calls to from the media.  The satellite e-mail capability also gives me the ability to update the blog from just about anywhere on the planet….  Incidentally, the netbook is protected against nasty things on the net using McAfee SecurityCenter – with automatic updating disabled to prevent my PAYG credits being eaten up, relying instead on finding WiFi to manually refresh the software.
I'd heartly recommend the Aspire One netbook for those who want a decent keyboard and screen when operating in the outdoors.  However, you do need to remember that it generally takes a bit more time to do things than bigger, more powerful laptops, but I think that's a fair trade-off for reasonable battery life and relatively small size and weight.  As with all netbooks I've come across, there is no integral CD/DVD drive.  I bought an external drive for loading software onto the machine, but do not plan to take it with me.  The netbook is routinely backed up on to a couple of robust – designed for yachtsmen I think – 'Overboard' rubber-cased memory sticks.
When integrating the video camera with the netbook, I found that the Pansonic editing package would not work with the netbook, due to insufficent screen resolution.  My solution has been to use Windows Movie Maker, provided with the XP operating system.  Unfortunately, this tool does not support Panasonic's proprietary video format, which has required me to invest in the Movari Video Converter 8.0 package to turn the files into a form Movie Maker recognises.  No expert on file formats, I chose to convert to MP3 because I knew Movie Maker supports this.  You also need to play around with video quality settings when you come to save your edited piece, otherwise you can end up with something far inferior to the original!  Conscious of over-burdening the netbook with too many applications, I stripped out all those provided with the machine – such as Microsoft Works – that I never use.  Never know when I might need the space…
Whilst I'm pretty familiar with the kit, most of the more challenging stuff has downloadable (PDF) instruction manuals, again helping to save on weight and space in the panniers.  Finally, all the kit can be re-charged from mains supply – using a LifeSystems world travel adaptor – or more slowly using a SolarGorilla solar panel.
[With thanks to Katie and Tarka of www.primaljourney.com for suggesting I look at the T-Mobile stick, and James at Haven Websites for advice and assistance on e-mail and weblog clients]
Website
With the website acting as a window into my world, getting it right has been very important.  That's not to say I won't tweak things in the future – either as a result of feedback from visitors, or simply because technology, and our use of it, moves on.  I'm hugely indebited to James Crickmere of Haven Websites for developing the site for me, and also to his Mum for the artwork.  The site is powered by WordPress and hosted in the UK by Fasthosts, and I've been quietly impressed by both.  WordPress also allows me to be able to blog remotely by a weblog client or e-mail.  James looks after site maintenance for me – software updates, backing up the content etc – so I can concentrate on content and ideas for future developments.  Incidentally, we've not got drawn into never-ending story that is search engine optimisation, favouring instead a rather more simple, and far less costly, approach – simply having a well designed website!
Communicating with people – non-verbal
Recognising the limits of my language skills – easy enough, I'd don't have any – I've a couple of items to help explain who I am and what I'm doing.  The first is a small inflatable globe.  I also have a collection of letters of introduction, describing who I am and what I'm doing in simple terms and translated into a variety of languages.
Luxury item
Humour me – one luxury item, a whole 220g of Christmas Pudding.  Says on it 'store in a cool, dry place'.  I'll try.
Training
Coming soon – cycle maintenance, medical, cycle training, field skills…., blogging