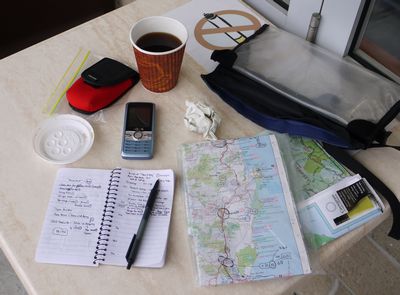 It's not all "Home & Away". That's Palm Beach. Just north of Sydney. There's quite a bit of dull, but necessary, stuff to do. Maps to consult. Visas to organise. Funds to find. Logistics. Articles to write. Website to run. All part and parcel of the project. Of life on the road. By way of illustration, some of the scribblings in my pocket book:
Monday – Timeline to Sydney – review day's progress – on track? US visa application – consolidate and check all paperwork held – too tired – another night. No visa for New Zealand but need to satisfy other entry requirements – clarify
Tuesday – Entry into Tasmania – check leaflet – no fruit permitted – eat! Processed foods ok. New Zealand – need to borrow Bergen – and need to check travel times to airport
Wednesday – Pick up spare tyre – too expensive in Australia – cheaper in New Zealand? Or ship from UK? And to where? New Zealand exchange rate?
Thursday – Offer of free kit – choices? Shipping address? Wait until received by parents.
Friday – Progress today not good – 240 km to cover in two days – follow coast / avoid highway and use ferries for most direct route – start first light (6.44am) and aim to finish by 4pm. Sunset just before 5pm.