Today's Kiwese word or phrase: "Cuttin". Young cat
It was an embarrassingly stupid question. Her favourite book? Started to cringe almost as the words stumbled out. Caroline had read literature. Durham. Originally from Barrow-in-Furness. I'd spent a night there once. Nondescript B&B. Arrived in the dark. Left before dawn.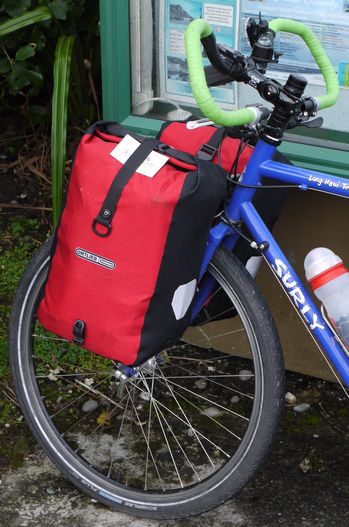 I'd come across her bike a little earlier. A Surly. Well-equipped serious touring machine. Parked up in Punakaiki. No sign of its owner. Judging by the saddle, a woman. Left my card. Tucked carefully into one of the front panniers.
If Caroline thought my question awkward she didn't let on. Difficult choices. Probably Michael Ondaatje's In the Skin of a Lion. Not, I'd admitted, a text I was familiar with. But the author? He'd given his name to the Royal Geographical Society's theatre in Kensington Gore she explained.
Caroline had passed me on the road as I'd strolled back from Punakaiki to the Te Nikau retreat. Slowed a little by an incline, we'd exchanged pleasantries. I'd asked if she found my card. She had. Did her steed have a name? Yes, she said. Sheila.
We were the only guests that night at the retreat. Sharing one of the houses. And dinner. Concocted from our respective rations. Between efforts to keep the small stove alight. Little heat from the now faintly glowing coals.
She'd been touring around New Zealand's South Island. Heading up the coast to the North Island. Well-prepared. Very. Knew some of the familiar faces of the long-haul touring world. Had been along to the Royal Geographical Society. Serious stuff. Reflected in the kit she carried.