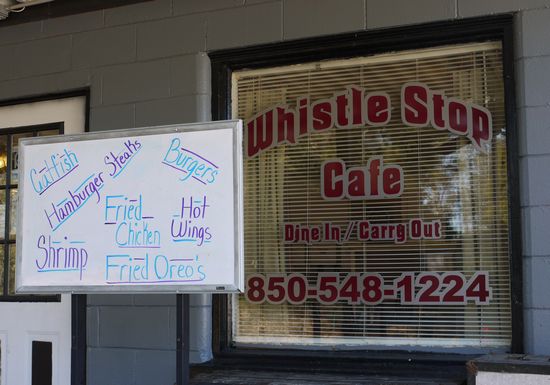 I'd sought lunch at Sally's place back in Ponce De Leon. Two minutes I'd said. Fifteen minutes ago. So I'd got up and left. My server seemingly unaware of my disgruntled departure, despite having just three customers to attend to. Disappointing. Enticing kitchen aroma, and some sensibly priced choices on the menu.
Reminded me a little of a cafe bakery in Portmadoc a few years ago. Quickly apparent they'd no intention of ever serving me. If they'd actually had the decency to say so I'd not have minded so much. But they hadn't. Instead the silent treatment. Cowardice in the second degree. Sort of thing they invented firing squads for.
But then I'd stumbled on a sign for the Whistle Stop Cafe. About ten miles further on in Westville. No fried green tomatoes, but the cook insisted I try their deep fried Oreos. Served drizzled with melted chocolate and dusted with icing sugar, the usually dry cookies transformed into a soft, sweet filling. Moorish I'd said.