The plan was simple enough. Head north up the coast to Kobuleti, then inland towards the town of Ozurgeti, the hub of Guria region, meeting up with Eto around four in the afternoon. We'd not had chance to agree exactly we'd rendezvous, but I was confident that if I cycled around the place long enough, she'd find me. Thought I'd be easy to spot, couldn't be that many Englishmen on bikes looking lost. Worked quite well. Actually, when I arrived in the centre I spotted a TV cameraman, and made straight for him. Struck me as a good idea, he even filmed me for a while but then disappeared. Never worked out who he was, and nobody else seemed to know either.
Eto – on the left in the photograph – explained they'd been a slight change of plan, I'd be staying twenty miles further on in the small town of Chakhatauri, close to where she lived. Her father George had brought the car so there was no need to cycle. Unfortunately, three people, Emma, all my panniers and a Lada wasn't going to work, so we compromised – they'd take the luggage and I'd cycle there.
But, by now five in the evening, it was first time for dinner and a new dish – Khinkali – described by Georgians as a meal in itself because it contains meat and potatoes in a pasta parcel. Just like the Khachapuri Merab had introduced me to back in Batumi, there's an art to eating this. You must make sure the juice inside the parcel does not spill out, gingerly biting a small nick and drinking the contents. Sounds simple enough. Took three attempts to get right.
The ride to Chakhatauri was swift, Eto and her father meeting me every few kilometres, and the scenery quite beautiful. A brief climb up from Ozurgeti, then a fast, winding descent onto a wide, flat river flood plain, bounded by steep wooded mountainsides and snow covered peaks on the southern side, the Lesser Caucasus, the sun setting behind me.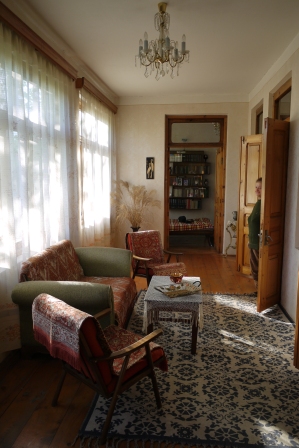 It had been an intriguing day, an unexpected but enjoyable ending, but it wasn't quite over. Eto had arranged for me to stay in the village with Luara, more of a home stay than a bed and breakfast. Greeted with tea and cake, one last thing to do before retiring, an interview with local journalist Kate, Eto acting as interpreter and George offering a few questions of his own. Intrigued to know what would happen if I fell in love along the way. Thought my answer very diplomatic.

Tags: Caucasus, Chakhatauri, food, Georgia, Silk Roads, tv