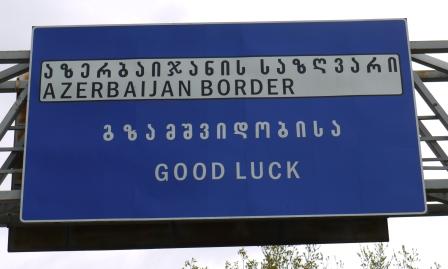 Rapport. "Salam Aleykum!" – welcome in Azeri – I exclaimed. Handed my passport to the Azerbaijani border guard, deliberately opened on the photo page. "Manchester!" I said, pointing to my place of birth written on it. "Manchester United!" he replied. Seemed to be working. Not that I'd anything to hide. Documents all in order. Just wanted to avoid undue hassle, unexpected taxes to pay and the like.
The Customs Officer felt obliged to inspect my luggage, opening one of the smaller front panniers. For the unwary, a bit like opening up a self-inflating life raft. Well, maybe not that bad, but enough to deter him from prying any further.
With a nod I was permitted to pass, my visa stamped. Past an array of civilians milling around the fairly dilapidated border post. Off into Azerbaijan. Tenth country en route, first of the 'Stans. Here we go.

Tags: Azerbaijan, border, Caucasus, humour, Silk Roads