Just a question of time before they caught up with me. You had to admire their tenacity. "Watchtower?" she asked. I declined, politely. Besides I'd plenty of other English language reading material to be getting on with. I'd been interrupted chatting with Ruby and Mike, a couple of serious Canadian motorcycle tourers. They too were off to Azerbaijan, but first were going to enjoy a bit of luxury, a change from their normal staple of budget stays. An admirer of fluffy duvets and warm towels, I couldn't fault their logic. And Ruby had a helmet camera to capture footage for their website. I wanted one.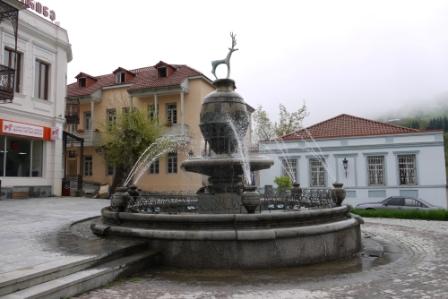 I'd arrived in the small Georgian town of Sighnaghi the previous night, a lofty vantage point offering a distance glimpse of Azerbaijan forty or so miles away across the plains below. Much of the centre has been renovated in an Italian style, and although quite tasteful, it does give the place a slightly surreal feel. Not quite Portmerion, but large opaque spheres bouncing along the streets wouldn't exactly look out of place. And you have to cross the 'Happy line' to enter – conveniently painted in English in large letters across the road.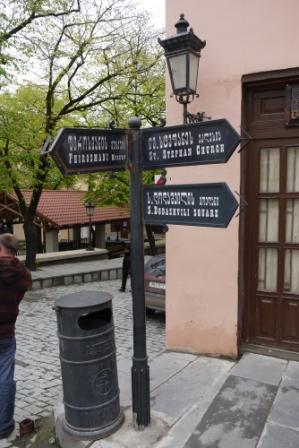 The town has been deliberately re-developed with tourists in mind. There were the usual clues. No-one comes up to offer help when you pull up in the town square looking lost. Street lights along the road in. Plentiful signs in English. And what seemed like a demand for money from a man with a large stick. But I liked it no less for all this.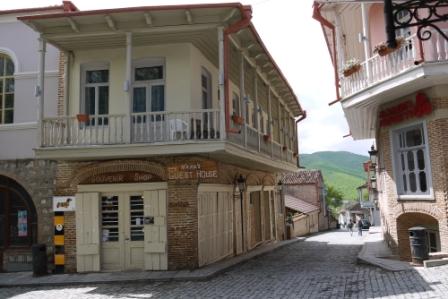 And I really appreciated Sighnaghi that seemed, so far at least, to have resisted the temptation to exploit visitors. Prices seemed very reasonable, about ten pounds a night for a superb home stay (bed & breakfast), and the same amount in a local restaurant buys you a very decent meal. Funny though that prices in shops all seem to add up to whole Lari (about forty pence), a convenience you don't see in the small villages.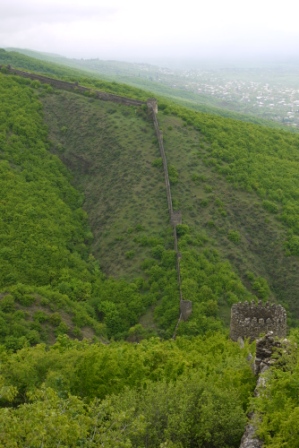 A few people had suggested I stop in Sighnaghi, ten miles or so off my intended route towards the Azerbaijan border, and deep into wine making territory. I'd ridden from Tbilisi, about eighty miles, frequent downpours and some lengthy climbs, but worth it all the same. Spectacular views they said. Imposing fortified boundary wall too.
Must have been pretty tired by the time I eventually arrived, precious little daylight remaining. I'd not left Tbilisi until around noon, largely the result of a few last minute good ideas, but still leaving a good seven or so hours solid riding. I'd found a room in a home stay, had quickly showered and then gone in search of a decent meal. Found a place close by, even had a menu in English. Went for the 'Chicken live cooked in crockery'. Seemed a bit cruel but I was famished, and was curious how exactly they got the reluctant bird into the chicken brick. Still, it would be fresh. And best not to think about the feathers.
[The author stayed at Nana Kokiashvili's guesthouse – Tel 899795093 or kkshvl@yahoo.com or http://nanahouse.ge.iatp.net (not checked) – 25 GEL (Georgian Lari) about £10 at the time of writing – head up the hill along the left hand road from the town centre fountain, then take the left fork up the no-entry street and you'll find it on the corner – great value, very homely, and they speak pretty good English. Oh yes, the 'chicken live' was in fact 'chicken liver'. Nice all the same. And you can catch up with Ruby and Mike's motorcycle adventure at www.unusvita.com. And no men with large sticks were harmed in the making of this blog post. Tempting though, he was pretty menacing]

Tags: Caucasus, Georgia, religion, Sighnakhi, Silk Roads, tourism