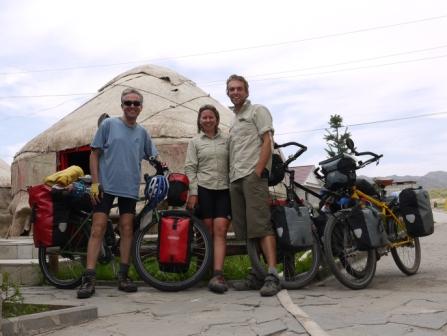 Their plates were empty, mine still largely untouched. I apologised for talking so much, the opportunity for conversation in a shared native tongue irresistible. But I think they understood, they'd encountered solo travellers before, had said so much when they'd been given the chance.
Mike and Jo were fellow long-haul cyclists, New Zealanders who'd ridden from Beijing with an eye towards France. We'd met by chance at a small cafe at the top of the Kokpek Canyon in eastern Kazakhstan. They were trying to fathom the menu as I arrived, their cycles, from the same bike builder as my own, immediately catching my eye.
Some striking similarities, not just the choice of equipment. Philosophy, how they approached life on the road, resolved the inevitable problems, issues that cropped up from time to time. But still lots to share. And then off on our separate ways, they to find a secluded spot to camp, myself on towards the Chinese border.
[Title inspired by Mike and Jo's choice of bicycle – the Thorn Nomad]

Tags: cyclists, New Zealand, Silk Roads