Reassuring face. "Locco". Host of 4CA's morning show I'd met a few days earlier. And keen cyclist. Ten am. MuzzBuzz drive-thu coffee bar. He'd been up since four. Suspected he needed caffeine more than I did. Felt honoured he'd dropped in on his way home from the studio. Casting an experienced eye over Emma, my trusty steed, and all the kit.
Our conversation brought to a close a little too abruptly than I'd have liked. Arrival of the first of two local TV news crews. Interview. Then riding footage. On the road. Loop after loop. Different angles. Close-ups. The cameraman running alongside for a while. Doing my best to keep the speed to a minimum. Just enough to avoid looking unsteady.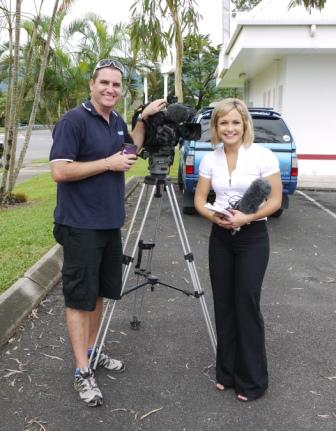 Second news team. Subtly different style. More close-ups on my trusty steed. Choosing to place the coffee bar in the background. Pulling up for a beverage on the bike would have been a great touch. But, no doubt, perceived as too promotional. Relying, instead, on proprietor Ian to shoot the scene for the website.