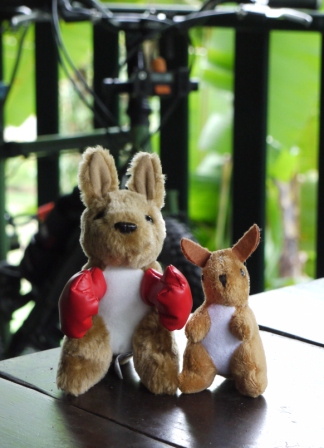 Skippy has teased out some very generous donations. Hugely appreciated by Emma, my trusty steed, and I. And The Outward Bound Trust. But most of all, by the young people able, as a result, to undertake nothing short of life-changing courses with the charity.
Skippy's a socially aware critter, conscious of tough economic times back in Blighty. So time to introduce fellow marsupial Wallace the Wallaby. Like a kangaroo, just smaller. Far less chance of one disembowelling you. So no need for the gloves.
Wallace can be yours for safe keeping. Once we've got the Australian continent in the bag. Plan is to give Wallace to whoever leaves the most witty comment when making a secure donation via my JustGiving page. Doesn't matter how much you give. Few pounds. Or a lot more. Because it all helps. Just need to make me smile. The most.
Inevitably the legal types require some terms and conditions. Conveniently, these are the same as for the awarding of Skippy to a good home. See 5 March 2011 blog entry entitled "Hostage to fortune". With one important difference:
"Awarding of Wallace
Wallace will be awarded to the person making an eligible donation, between 9 April 2011 and Ken's completion of the Australian stage of his expedition, deemed to be accompanied by the most witty comment. Ken's decision will be final and no correspondence will be entered into."
Please remember, the making of a donation is considered to be acceptance of these terms and conditions.
[Neither the awarding of Skippy or Wallace to a good home is considered to be a lottery as defined by the Gambling Act 2005. But, even if it was, then it'd be an incidental non-commercial lottery. Which doesn't require a licence. Or registration with a local authority. So, either way, perfectly legal. Well, this is an ethical venture. So you'd expect me to consider these things]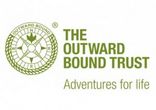 Tags: Fund-raising, Skippy, wallaby, Wallace