Today's Kiwese word or phrase: "fear". What you pay when you get on a bus
6.45 am. Remarkably jovial. Baseball cap. Bomber jacket. Navy blue. Chill morning. Shorts. Rummaging around for his shades. Our driver. Early bus to Punakaiki. Still dark. Now checking off names. Where was I staying? At the hostel. Which one, he asked? YHA I replied. She'd come and pick me up, he explained. Couple of miles outside the village. Apologetic he couldn't drop me off at the door.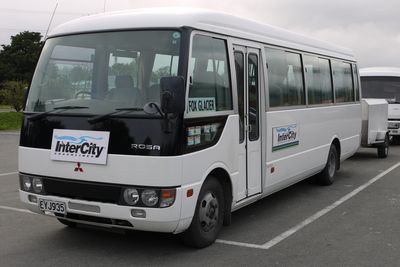 Friendly reminder to a young man at the front of the bus to keep his food stowed away. We'd be stopping for tea about nine fifteen. And there'd be pies. And then "Onward" announced our driver. His name Steve.
Fellow passengers, mostly young travellers. Backpackers. A few Japanese. Save for our man at the wheel, I'd have been the eldest. Portly chap in his fifties. Bounded about whenever we stopped. Shepherding his young flock from luggage trailer to the small bus. Too few of us for a full sized coach.
And a Canadian woman. Sure I'd seen her the previous evening in the hostel. On the face of it late forties, but the eyes said differently. She'd smiled at me when I'd arrived at the bus station. Early.
[Author's note: Steve makes several very welcome appearances as the story unfolds. For which, following feedback to his employer InterCity buses, he's been awarded a particularly well deserved Certificate of Merit!]