I'd joked with my escort of young riders that the pull up to the village cricket ground was my very last hill. What I'd been training for. But, in truth, there was one more gradient, a gentle slow curving gracefully along the tall boundary wall of the manor house. A barely perceptible climb now.
Beyond the bend I quickly saw first the finishing tape drawn across the road beneath my own cottage. And then, beyond it, the very sizeable crowd of family and friends, well-wishers who'd taken the trouble to come and welcome me back. Loud cheers. Glimpsing familiar faces.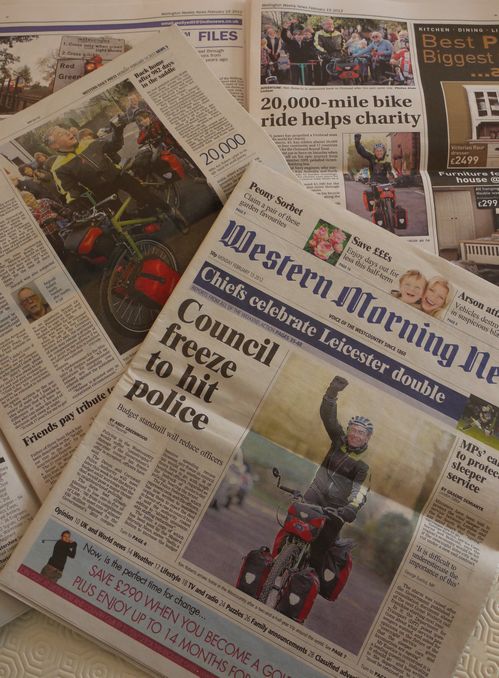 A lengthy address wouldn't have been right. Instead a few words of thanks. Simple and heartfelt. Someone pushed a glass of Champagne into my hand. A couple of quick chats with friends, then drawn to the cameras. Interviews to be given. Local TV and radio. Photographs to be taken. I felt confident, buoyed up by the sheer excitement of having made it. And the warm welcome home.
Fortuitously I'd taken the right road from Halse. Eventually passing a familiar turn to nearby Milverton. Relief. This was not the day to be adrift. Soon at the small grassy knoll. On it sat a bench placed under a fairly mature tree. I might ordinarily have been tempted to rest my steed there, but with less than a mile left I didn't want to risk an unfortunate encounter with a thorn perhaps hidden amongst the grass.
Ten minutes to two. The appointed hour for a triumphal entry back into the village. Quick call to confirm I was in position. Agreeing I'd set off a minute or two before the hour. Better to be a few moments late than risk arriving before everyone else had finished arriving. Not that I was entirely sure who'd be there. Been very focused on simply getting myself there in unexpectedly challenging conditions.
There'd been a piece to camera for ITV South West. But I found myself most absorbed by an interview with Barry from the local community radio station. I liked his questions and felt our dialogue flowed. Slow to notice my Mum trying desperately to attract my attention. There was cake to be cut. I was quietly pleased.
I'd been unsure how much media coverage there might be. Always the risk of a last minute dead donkey diverting them away. But what had really mattered was whether I could deal with it with the same adeptness my brother had shown during a major offshore rescue some years earlier. I'd admired him immensely for that.