"An expedition without reportage is called a holiday"
Using the last vestiges for broadband for a while, James the webmaster and I have made a few subtle changes to the site, and we've got quite a bit more planned to help keep things fresh and interesting. Some of our ideas may have to wait until my arrival in Hong Kong in early October, but I'd like to think it'll be worth the wait!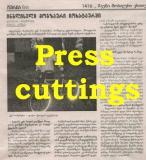 But, for now, we've added a "Press Cuttings" section, and a new map showing my intended route across China. I'm particularly fond of the dragon, and the scale at the top – visit the route section of the website to take a look.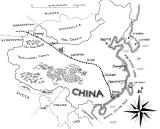 Inspired by the very positive feedback to "Nation of Convenience", a further mini-documentary is beginning to take shape. And, particularly for those of you who find accessing the videos tricky, James and I are exploring the world of podcasts. Of course, all the usual blog posts, video clips – with the obligatory shades, interviews with the team at Somerset's 10Radio, and photos will be popping up along the way. Internet access permitting.
In the dull but necessary department, we've added Terms & Conditions at the bottom of each page, a prelude to us adding a lot more downloadable content for both the avid expeditioner and armchair enthusiast alike.
We've already assembled lots of useful information on the Central Asian visa game, common scams, as well as more technical stuff like comprehensive equipment and medical kit lists, and Emma's vital statistics. Hoping to upload all this shortly, the Great Chinese internet firewall permitting. Ok, here's a couple of quick samples – "What you need to know – scams" and "Emma's vital statistics" (shown with a more reputable title) – just click on the relevant links at the end of this post. And we've lots more ideas for further content than there are nights in the tent to write it….
If you've not already done so, you can sign up for automatic blog updates, delivered straight to your e-mail account – click on blog, enter your e-mail address and press 'Subscribe' – simple. Or join me on Facebook – link on my home page – lots of fresh content there as well. And to find out more about the UK charity, The Outward Bound Trust, I'm raising funds for, either follow the links on my own site, or just click here.
Attached Files: