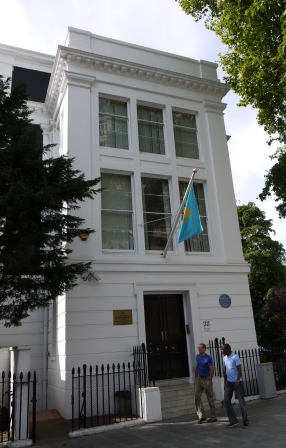 Sparked quite a debate. Last week they'd been a punch up at the Algerian Consulate. And sometimes they'd be trouble at the Iranian one, especially as Jordan would no longer allow the Kurds to enter Iraq across its territory. I'd been waiting patiently in line to apply for a fresh Kazakhstan entry permit, mostly with couriers or handlers from the various visa agents around the city. I'd simply asked which was their favourite Consulate. And their most disliked. China and India the most efficient. Nigeria and Angola the most random, unpredicatable. And Iran just required a lot of perseverance. But squabbles always brightened up the day.
But the Consulate I liked the sound of the most was for a small West African country. No large town house, just a small unit on an industrial estate north of the Capital. But a very personal service. The Ambassador was an Englishman, former head of the nation's Civil Service. Pop in and he'd make you a cup of tea, and if there were any problems with your application, he'd give the President a call. Straight away.

It had been a fairly lengthy wait to submit my documents for a new Kazakh visa, but good humoured. I'd joked they might stop for a tea break as I approached the counter. Actually it was a short meeting, but they'd at least had the decency to explain this. Brief check of my papers, payment, and a ticket to return in three days. Then back outside, the temperature already creeping up towards the high twenties. I needed a coffee. Hoped there might be a cheap cafe nearby.
[With especially thanks to Steve for sharing the West African story]


Tags: Kazakhstan, Silk Roads, visas