Two hours. In a culvert. Waiting for yet another violent electrical storm to pass. I'd managed to get Emma, my trusty steed, down the embankment, away from the lorries thundering overhead. Safe. Yes. But not somewhere ordinarily you'd want to dwell.
I'd often seen vehicles parked up on the hard shoulder, seemingly abandoned in the vast openness of the desert. Only to realise their owners were using the relative privacy of the occasional culvert as an impromptu toilet. But the alternative was altogether less appealing. To be the only feature on the landscape for miles around. In an electrical storm.
The worst of the weather having passed, back on the road towards the city of Hami. A toll booth ahead, a small shop, and a welcome coffee. Cold. In a can. But refreshing nevertheless. The shopkeeper, struggling as much with dental pain as I was with saddle sores, seemed to be indicating I stay. He'd pointed to a spare bunk at the back. Two pm. Didn't make sense.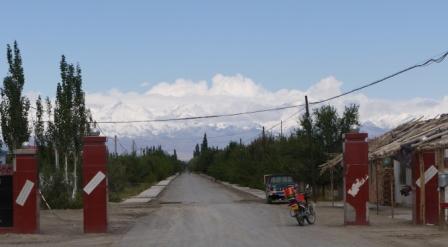 I'd been gone about twenty minutes when I realised what he'd been trying to tell me. Dust storm ahead. Catching the fringes, swirling dust, irritating rather than disabling. Gritty evidence strewn across the road of the storm's intensity. Hami was close. Very close. No stopping now. Then, abruptly, clear skies, save for the mountains in the distance.

Tags: culvert, dust, Hami, Silk Roads, storm