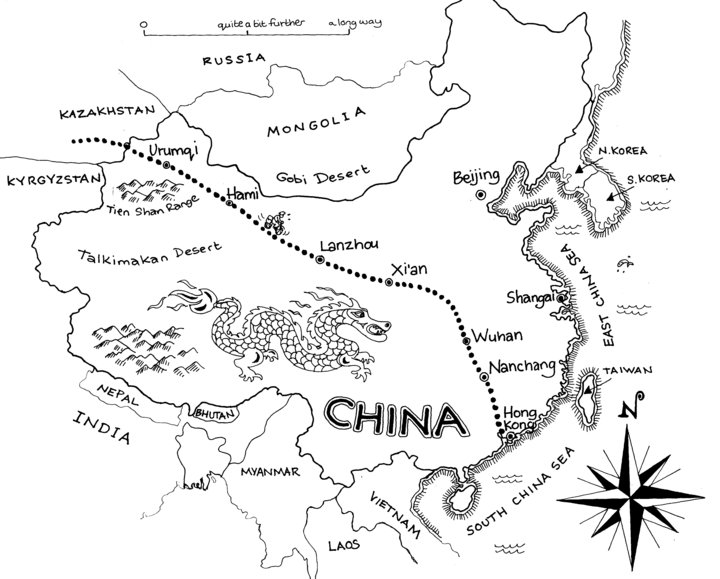 Central Asia was almost over. Next China, the aim to reach Hong Kong and complete the crossing of another continent. Roughly six thousand kilometres – about four thousand miles. Up to ninety days to complete it on my new visa, planning on arriving late September. I'd my maps, the entire country on two sheets so not big on detail, but at least they showed place names in both Latin script and Mandarin characters.
And the plan? Cross the border from Kazakhstan at Khorgas, three days ride from Almaty and a thousand kilometres or so west of the Chinese city of Urumqi. There's some formalities to attend to on arrival, registering with the Police, which probably means a small detour to the city of Yining. And a chance to investigate the rumour that the internet may have been restored. An ATM would also be good.
Then the push east along the Silk Roads, south of the Dzungarian Basin, Turfan Depression, across the lower reaches of the Gobi Desert, skirting around the Tibetan plateau towards Hong Kong. Hoping I'll find an all-you-can-eat buffet or two.
[A larger version of Ken's route across China will appear on the website shortly – just click on 'Route' and follow the link. The author is indebted to professional illustrator Claudia Myatt – www.claudiamyatt.co.uk – for turning his incoherent scribblings into something meaningful. Again. And thanks also to fellow cyclist Steve Tallon at www.turnrightforjapan.com for lots of helpful routing information and inspiring photographs]