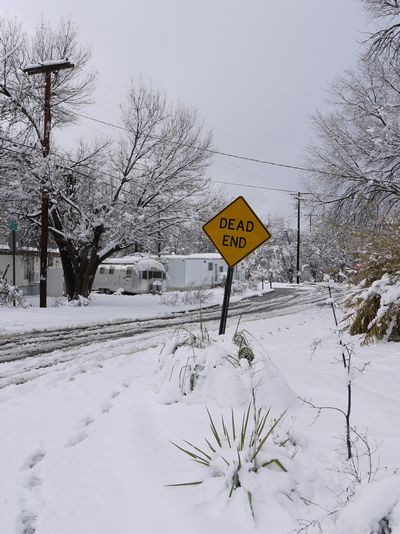 Snowbound in Silver City at a little over six thousand feet. Fighting the white quite fruitless. Instead, refreshing the plan for the journey east to El Paso, Texas. Studying ten day forecasts, looking for a suitable weather window to traverse the 8,230 feet Emory Pass – twice the height of Ben Nevis. And the elevation profiles on my maps, making sure daily targets are challenging, but remain art-of-the-possible.
Careful balance required. Conditions at eight thousand feet can be very fickle. Best to be cautious, as flexible as possible. Draw on experience of the earlier passes. Expect the unexpected. But need to commit to a plan as I've already made arrangements to stay with fellow cyclists in El Paso and beyond. People generally don't mind change, so long as you let them know in good time. And don't do it too often.
And the plan. Wait for expected daytime temperatures to rise above freezing. Tyres never good on ice. Reposition thirty or so miles east of Silver City at a US Forestry Service campground at the base of Emory Pass. Complete the traverse the next day – about twenty five miles so if conditions are less than ideal, plenty of time to be cautious. Then downhill for a couple of days to El Paso.