"Travel is glamorous only in retrospect" – Paul Theroux, travel writer
Deceptively straightforward start. Escape from Wuhan. City larger than London. Heading towards the city of Nanchang. Smaller. Couple of million. Next leg of my journey south to Hong Kong for Christmas. Reaching my first stop, Ezhou, with the minimum of fuss.
Beyond Ezhou I'd left the comforting familiarity of the G106 National Road for a lesser Provincial Road. Soon deteriorating into a rough, if wide, track. Enveloped in thick clouds of dust churned up by passing lorries. The occasional strip of tarmac. Evenings spent wringing the caked filth from my clothes.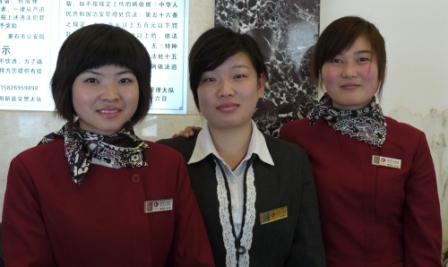 Nondescript hotel rooms. Forty channels and nothing on. Friendly enough establishments. Smiling faces at reception. Cheaper than a European hostel bed. But I was beginning to tire of it all. Repetitious. Finding myself struggling to place the various stops, even from a few days previously.
Evenings. Familiar pattern. Provisions for the next day. Some from a supermarket. Fruit from street sellers. By now dark. Traffic ebbing away. A few groups of women dancing on the wide pavements. Shades of line dancing but with more expression.
Eventually reaching the city of Jiujiang. Modest by Chinese standards. Bigger than Manchester. Back onto a National Road. Progress once more. Closing in on Nanchang.
[Author's note: Series of short films of life in a typical provincial town to follow – once I can get them on to my video hosting service – blocked in China!]